French Revolution music video studio shoot (NSFW)
---
Recently I did a shoot for a music video that I'm working on. The video is for the band The Informatics and the song is called Barricade. Some of the video was shot in the studio and other parts will be shot on location in various places. The art director was Michael Trudgeon, who also is the lead singer of the band. We shot in Luminosity Studio in Box Hill.
---
This studio shoot refers visually to the famous painting Liberty Leading The People by Eugène Delacroix. The woman in the painting is called Marianne. She is a symbol of both Liberty and the French people.
The model was the talented and beautiful Zia Electric. She is an actress and dancer based in Melbourne, Australia. The expression of emotion through pose and movement is her area of expertise. Zia did a pretty great job, especially considering that the studio was quite cold, that she was semi topless and that she had to wave a big flag around for a few hours.
Hair was done by Kyanne Wagensveld who is an expert graduate of the Sam McKnight Mastered: Hair course in the UK (I did the fashion photography version).  This was the first time that Kyanne and I worked together but we are hoping to do more projects in future.
Makeup was by Stéphanie Sin, a talented and creative MUA who I've worked with many times before. Appropriate that Stéphanie worked on the shoot, since she is French! A big thanks to Stéphanie for the four BTS (behind the scenes) videos you can see below, as well as some of the BTS stills.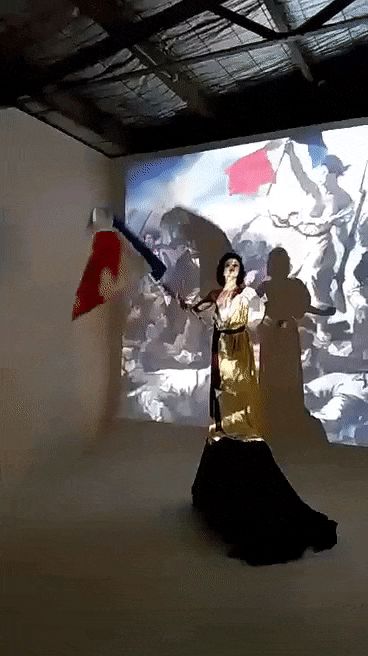 ---
---