Hair and beauty shoot with Jacqueline & Allison
---
Recently I did a hair and beauty shoot with a great model called Jacqueline Daisy Richmond and a talented HMUA called Allison Nicole.
Jacqueline is a highly experienced model, despite being only 19 years old. That's because she started modelling at a young age. So it's easy to work with her, thanks to her experience. Jacqueline is adept at posing and emoting. She also is very responsive to direction from the photographer.
Allison is a HMUA who hails from the USA and is now based in Melbourne, Australia. She loves cosplay and Japanese kawaii/Lolita/manga/anime looks. As you can see from the BTS (behind the scenes) shots here. When Allison and I had a coffee in a street cafe, a random stranger stopped to ask her about her hair. He was so impressed and so curious.
We shot two different looks – one super shiny look with pink eyeshadow and white false lashes, plus a second look with dark red lips, long black lashes and hair extensions. The first look ended up making Jacqueline appear quite androgynous, while the second look was classically feminine and glamorous.
One lighting setup was a high key white background. That was created by posing the model in front of a 120cm octabox. Another setup consisted of a black backdrop behind the model. I lit her with a gridded silver beauty dish. For my third setup, I used the white wall as a backdrop. With light falloff from the strobes, the white wall became a medium to medium dark grey colour.
One of the great things about a beauty shoot is its relative simplicity when it comes to the physical environment of the studio. Because it is not a full length shot, you don't have to worry about the floor showing up in the shots. And if you have a nice dark, non-shiny floor like I do, it can be used to absorb light without having to use additional black cloth or black polyboards.
Retouching was interesting. I did a fairly comprehensive, high end beauty retouch on the images. The one with the shiny skin was more challenging because the specular highlights of the shine magnified even the slightest skin imperfections. Jacqueline has pretty great skin, but the high gloss product applied on top of her makeup was quite powerful. If I shoot something like this again, I'll limit the application of the high gloss product to certain areas like the eyes.
Everyone involved was pretty happy with the final edited images. See what you think of them yourself!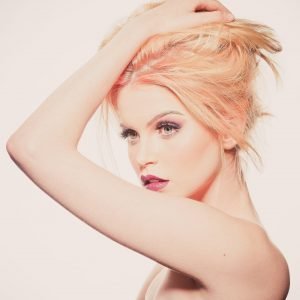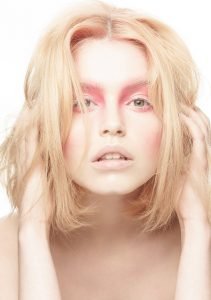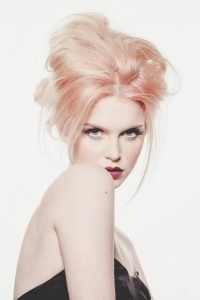 ---
---