I bought a Wacom One tablet today from Aldi for $40 AUD, which is amazingly low. I already have a Wacom Intuos Pro. The Intuos Pro has exactly the same sized drawing area as the One, but with some extra physical buttons and controls. It also has a much larger bezel, so it takes up more space on your desk. And the Intuos stylus is heavier and rubberized, while the One stylus is light and plasticky. Sounds bad, but isn't.
I love the One so much more than the Intuos Pro. Not only did it cost less than one sixth of the Intuos, the One tablet takes up less space and has a lighter, more comfortable stylus. And the Ergo+ stylus grip I bought for the Intuos stylus actually fits much better and much more easily onto the One stylus.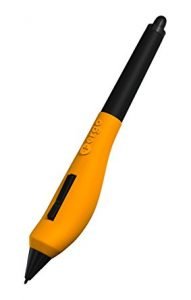 In fact, I accidentally destroyed the Intuos Pro stylus when putting the Ergo+ grip on. That's because of poor design by Ergo+, not because of Wacom's design, but it's ironic that the cheaper stylus is also more robust. I was originally thinking of just using the stylus from the One (with the Intuos Pro), but now I prefer the One tablet as well as the One stylus.
I use the tablet for retouching, not for drawing and painting, so I don't need the five zillion levels (actually 8192 levels) of pressure sensitivity offered by the more advanced Wacom tablet. The One has 2048 different levels of pressure sensitivity, so that's more than enough for my needs. And it's small enough to take with me when I travel, which is great.
So that was my little ode to the One by Wacom tablet. Simple, portable, cheap. And definitely the best choice if you're planning to use an Ergo+ grip on the stylus.
---
---