Alix Yang Jewellery shoot
---
I recently did a jewellery/jewelry shoot for an Australian designer called Alix Yang Jewellery. Alix is a talented woman whose jewellery range consists of gold and silver items. She has produced bangles, rings and earrings in precious metals. Simple, delicate and feminine, these accessories are instantly appealing to the eye and to the touch.
Alix's designs are inspired by modern art and street fashion.
The model was Bridie Goold, a young model who has worked for a number of different fashion clients.
The shoot took place in my studio, but as you can see from the BTS (behind the scenes) shots, the setup was extremely minimal. We shot at varying distances from the wall. Some shots had the model positioned against the wall in order to cast a strong shadow onto it. Other shots had her further from the wall so that her shadow was either soft or invisible.
Lighting consisted of a beauty dish (sometimes with a diffuser sock, sometimes without) and a supplemental softbox for fill. The softbox was only used in shots where we wanted to reduce contrast and fill in some shadows.
One of the challenges of this shoot was getting the specular highlights in the right place on certain pieces. In particular, the pendant earrings featured large flat expanses of polished metal. These areas picked up specular highlights if oriented exactly the right way. But as pendant earrings, they tended to rotate of their own accord beneath the model's ears. So as a result, many, many shots were needed to capture those rare moments when the earrings were rotated to exactly the right angle.
The hoop earrings were a simpler task, although they still required fine adjustment of the model's position and of the camera position, so that specular highlights illuminated the shape of the hoops. This was a simple shoot in terms of lighting and staging, but a tough shoot in terms of physical effort. The need to move the camera to adjust for changes in earring angle meant that the the shoot was much more physically demanding than you would first imagine.
Such an interesting shoot with so many interesting technical and creative challenges. I hope you like the resulting images.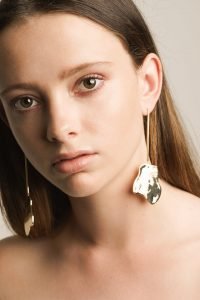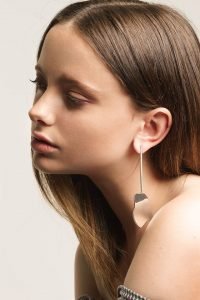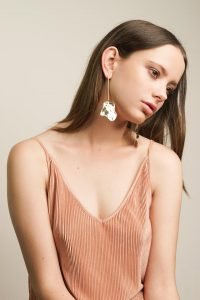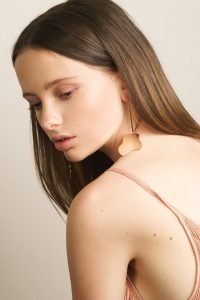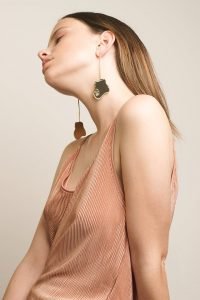 ---
---