Portrait Photographer Melbourne
---

Proficient Portrait Photographer Melbourne
Portrait photography is the art of capturing a person's best qualities and showing them to the world. Joseph Brabet is a Melbourne portrait photographer who captures your best qualities. He makes you look your very best.
Have you considered why some people are so photogenic while some people aren't? The term "photogenic" is often overrated. That's because how well the pictures turn out depends on the photographer, not the subject.
Anyone can take a snapshot or a selfie. But successful portrait photography is a skill that Joseph Brabet has honed with years of experience. He improves his portrait photography skills with each shoot. He is dedicated to studying and researching better ways to make portrait photos of his clients.
What can portrait photography be used for these days?
One of the most common uses of portrait photography now is for social media usage. People who want to present their best faces will be highly aware of the importance of social media. Photos on Facebook and Instagram are crucial for how that person and their personal brand are perceived by everyone. Everyone means their friends, their families, their relatives and their clients. Your Facebook profile photo is visible on every single post you make, as well as on your Facebook profile page. The same applies to your Instagram profile image. A badly lit selfie with bulging eyes and big nose just doesn't cut it any more for a profile photo. You need a professionally shot and professionally edited image.
Online dating is driven by photos. It always has been, but the use of apps like Tindr and Grinder have made portrait photography more important than ever. The only thing you have in your favour when you're doing online dating is your photo. It's the first thing that people see. It's the first thing that people swipe either right or left. If you want them to swipe right, you need to have the best portrait photo possible.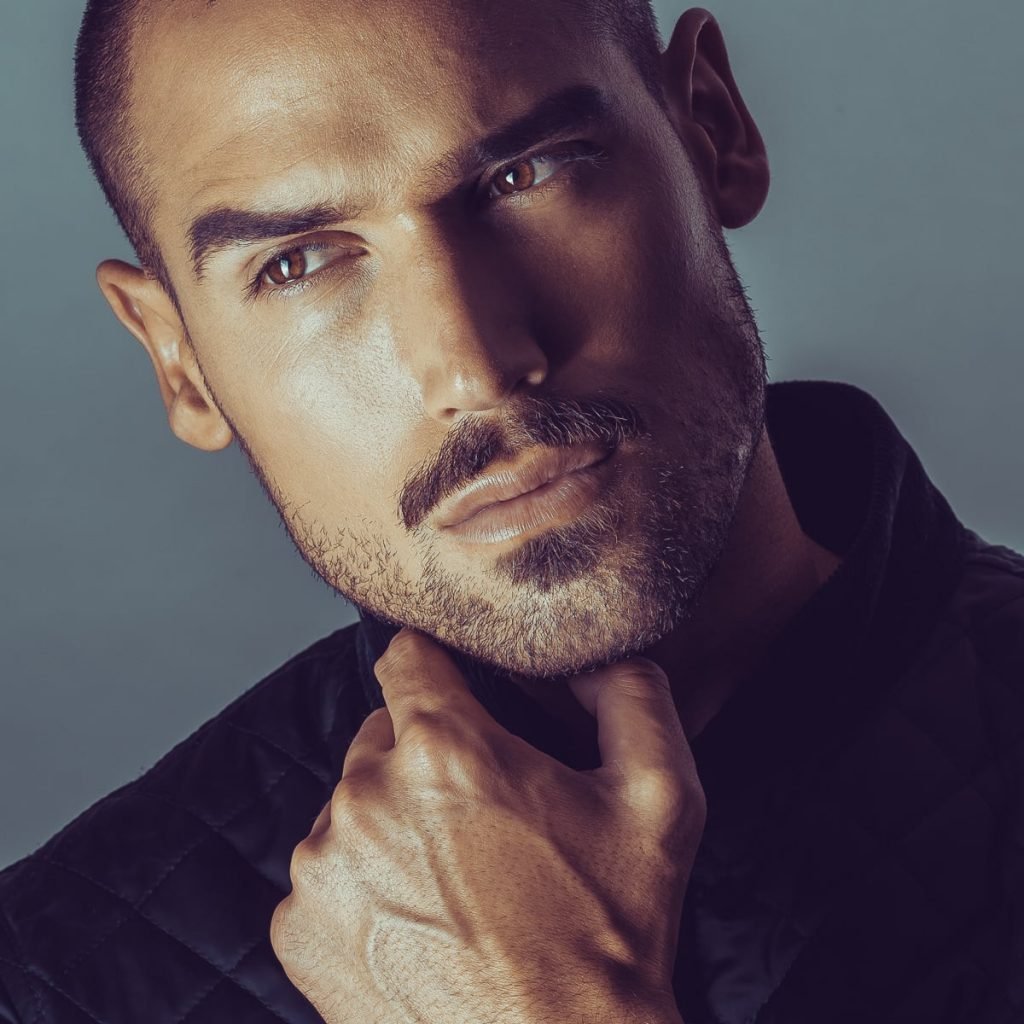 So how do we proceed with a portrait photography shoot?
First and foremost, our photographers ensure that the subject is comfortable with them. This ensures that the subject is relaxed and is ready to play around the camera.
Secondly, we ensure that we have the appropriate lens for the shoot. More often than not, how a picture turns out is highly dependent on the type of lens which is used in the camera.
We aren't amateurs in this field which is precisely why our photographers don't rely on automated settings of the camera to click pictures. Be it the aperture, ISO or shutter speed, we are well aware of how to change the settings to ensure that the pictures come out just the way we want.
For us, portrait photography isn't just about asking our subject to stand in front of a white background while our photographers capture them. That's a tried and tested method that has become quite boring. At the end of the day, we are extremely creative, and we like to mix things up by implements movements and other aspects in the photographs.
What do you need portrait photos for?
People need portraits for all sorts of reasons these days. Corporate portraits for company directories and brochures. Individual portraits for Linkedin, to maintain your value in the job market. Portraits for Facebook to look your best for family and friends. Dating portraits for Tinder and Grindr. And quality portraits of yourself to record your natural good looks, so that in years to come, you will have a lasting record of yourself when you were younger.
Joseph Brabet at Brabet Photo knows how to give you easy to follow instructions. This will help you pose for your portraits and have fun at the same time. Many of his clients arrive a little nervous about having their photo professionally taken for the first time. But all his clients leave saying they were surprised how much fun it was to pose for photos. You'll feel extra special when you choose Brabet Photo for your portraits.